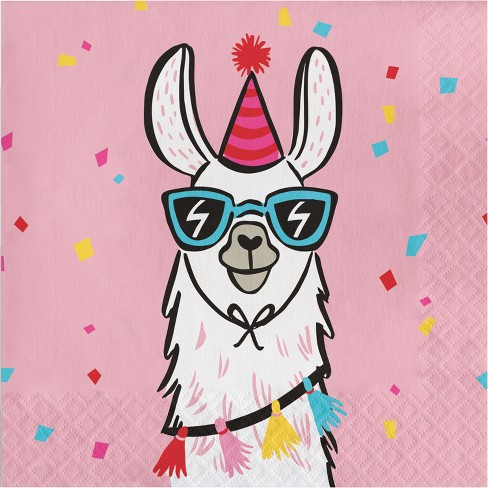 Llama Llama Writer Rama!
Last year I was thinking how Tuesday's are my favorite day because weekly podcasts I listen to are published that day. I had recently taken a trip to Target and found stickers. I use stickers to record writing rejections, to decorate my planner or to just brighten somebody's day on a notecard. This day I had found Llama stickers like the image above. At first I thought a cartoon llama was an odd sticker to have but I thought they were fun. The little party hat seemed appropriate somehow. I was drawn to the llamas. At that point, I didn't realize how much of a lasting effect the llama would have on my life.
On this Tuesday, I had been listening to Emily P. Freeman's The Next Right Thing Podcast. She talks about #simplytuesday — the idea that Tuesday is a special day all its own.
It isn't the beginning of the week — it isn't hump day — it isn't Friday Eve- it's just a normal ordinary "do what you need to do" day. I decided it needed something special to liven it up that was my own. People make up holidays all the time so why not me? This was the day Llama Tuesday was born.
Llamas are a little ornery. They spit, they can be pretentious, and have a bit of an attitude. I think that Llamas and writers have a lot in common in these ways so I started to slip it onto the end of my blog posts. I am part of a teacher writer group and post on Tuesdays and share on Twowritingteachers.org. I figured this was the perfect venue to try out my new message.
I started posting a random "Happy Llama Tuesday" message in my regular writing community on Slack as well as the bottom of blog posts. At first, I didn't offer any explanation. I just wanted to see if people would notice.
They noticed.
Now it is a regular practice and the tag line now is "Happy Llama Tuesday — Celebrate accordingly!" So you might celebrate by being a little sassy that day or bring a smile to someone's face. It is not the customary greeting which can catch people off guard pleasantly.
The Ripple Effect
The llama then became an unofficial mascot of our Storyaday group. The Llama even got a mention on the podcast for Storyaday.
It has become the official timestamp of the week. One writer even made comment that she was glad her phone finally had auto suggestions in her phone that had llama following happy.
Another ripple effect was "Dear Llama" letters. One day the llama posted a picture with the question, "What do you NEED as a writer?" Several writers wrote letters to the Llama telling her their needs. One writer regularly now writes letters to the llama. The llama is a good listener. It turned into a fun exchange.
We all notice when there are llama items for sale now and often share the links. They are having a surge in the retail market. I saw a helium balloon in shape of a llama at the grocery store. We have llama planners and notebooks we compose in. There was even a blow up raft shaped like a llama that was shared.
I wasn't expecting the Llama to have such a lasting effect but I am glad she did!
I say to you — HAPPY LLAMA TUESDAY!