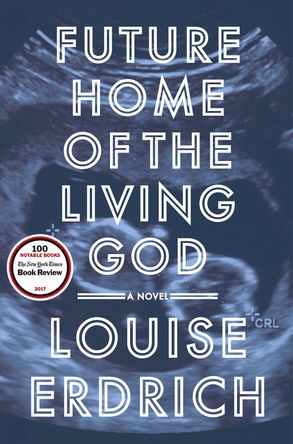 For my book club meeting tonight we read Future Home of the Living God by Louise Erdich. This is the first book of hers I have read. Although it was well written I did not care for the story. The diary/letter to an unborn child format was pulled off nicely. The descriptions were beautifully written in sections. I cognitively understood the story but didn't care all that much about what happened to the characters.
Since the book just came out I wasn't sure I would get a copy in time for the book club meeting. I ended up with a hard copy and was able to download the digital copy this week too. It did make me think about how I would react to the idea of the world ending. I am not sure I would stuff the walls of my house with booze and cigarettes though. As depressing as the story actually is, the book doesn't have that connotation as you read it. There is a thread of hope.
One of my favorite sentences is on page 265: "Sometimes the lake breathed a tortured sigh, its lungs full of broken glass."
I took my notes on notecards for this book. I have a new found love for notecards lately, especially color cards!
Another book I have for a book club this week on Thursday is John Green's new book Turtles All the Way Down. I enjoy John Green's writing and am always recommending his books to my middle schoolers. He plays with ideas and language and that is exciting as a reader and a writer.
The notes for this book I gathered on my phone in my Google Keep app. I love this app and dictate to it often especially in the car.
I like books that feature mental illness and I thought it was portrayed well in this book. I just finished Challenger Deep by: Neal Shusterman last night and that was a great representation as well. Much different than other YA books for mental illness and well done all the same. It is from the same author as Sycthe which I adored and read this past summer. I just found out that there is a sequel that is coming out next month! (Insert reading book happy dance….here!)
Anyway, back to Turtles. I read this book on my kindle which does not give a reader the advantage of page numbers for quotes. Some of my favorite quotes from this book are:
"Maybe I'm just a lie that I'm whispering to myself."
"Please don't make me share my dumb poems with you. Reading someone's poetry is like seeing them naked."
"Fourteen days of my life reduced to one sentence because I can't describe anything that happened during those days. It hurt, all the time, in a way language could not touch."
"But you are also the most fascinating person I have ever known, and you are not like mustard. You are like pizza, which is the highest compliment I can pay a person."
"I'm a story they're telling. I am circumstances." 
John Green, I think your book is like pizza! I think that will be my new go-to compliment for everything!
Now onto the next book! Happy Reading!